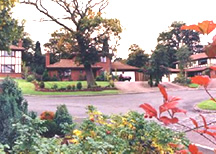 Orchard Dene
Warrington

Architecture and Landscaping for a 25 house development in parkland setting.

This high quality, award winning, private development is the product of a Runcorn and Warrington Development Corporation design and tender submission for 25 dwellings.

Set in a distinguished site in the Dudlows Green area where the existing landscape has been reinforced to achieve wooded parkland.

Large detached houses, well related to each other, are grouped in three cul-de-sacs.

They have been arranged to take maximum advantage of the existing features, which include a pond and mature trees.

Features
Integration within existing landscape.
Pavillion double garages enclosing pleasant landscaped gardens.
Use of stained timber and white infill panels which are a feature of many older houses in the area.
Well detailed stock brick.
Restrained variety of dwellings blended together.