Pall Mall
Liverpool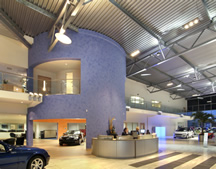 Client Road Range wanted to create 'the ultimate motor retail experience'.
Road Range appointed McCormick Architecture because of its fresh approach to the design process.
As a result of this project, McCormick Architecture has been appointed to design new Road Range dealerships in Chester, West Kirby, Llandudno, Warrington and Birkdale.
Features:
Computerised car bays, glass-walled workshop, Internet and office facilities, boutique. For younger visitors, a Baby-Benz zone with videos, PlayStations and games.
Cost: £4.5 million
Total sq ft: 40,000
Length of Project: 42weeks
Main Contractor: Kier
Structural Engineers: Curtins Consulting
Quantity Surveyor: Davis Langdon
M&E Consultant: Gifford & Partners
Planning Supervisor: Davis Langdon