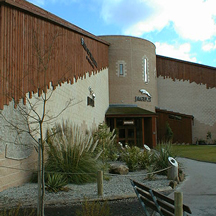 Design of a complex for 2 pairs of Jaguars and associated animals in their natural rainforest habitat where the public are immersed in the Jaguar experience.
Jaguar Cars' only project criteria was that the finished design surpassed all similar Jaguar exhibits anywhere in the world.

BBC Northwest viewers have voted the Jaguar House at Chester Zoo as their favourite modern building in Cheshire, and one of four finalists in the whole of the North West.
To make your vote go to:- BBC Architecture Vote
Features
A comfortable, secure space
An environmentally sympathetic, thermally efficient 'rainforest environment'
Use of renewable resources where possible eg shingle roof.