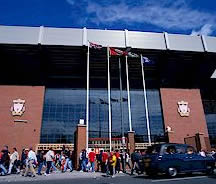 Architecture and space planning for a new museum and visitor centre at Liverpool F.C.
The creation of a new museum and visitor centre for Liverpool Football Club in space under the Kop stand at Anfield. Working with Heritage Resource Agency, a specialist museum planning consultancy and Fox Displays Ltd, McCormick have provided design services to the team.
The museum covers 350 sq metre and includes unique memorabilia and trophies, images and graphics, as well as some exciting new interactives.
Visitors can stand in a reconstruction of the 1965 dressing room, watch and listen to Bill Shankly give his pre-match talk to the team; re-live the "Cathedral of Sound" on the terraces of the old Kop; have a go at vision mixing and sound commentary for an important Sky TV outside broadcast match; test their speed and accuracy of delivery in a target shooting area; receive "Tips from the Top" by interacting with life size video images of players, and watch an entirely new 10 minute film called "This is Anfield".
There are also entirely new computer driven multimedia kiosks delivering interactive information about the club and the stadium, linked to a commercially available CDRom and future Internet Web site.
Timescale: 12 weeks (on time)
Cost: £750,000 (on budget)